What European Standards Bring to Serbia: Stricter Enforcement of Tobacco Control Rules Reduces Premature Deaths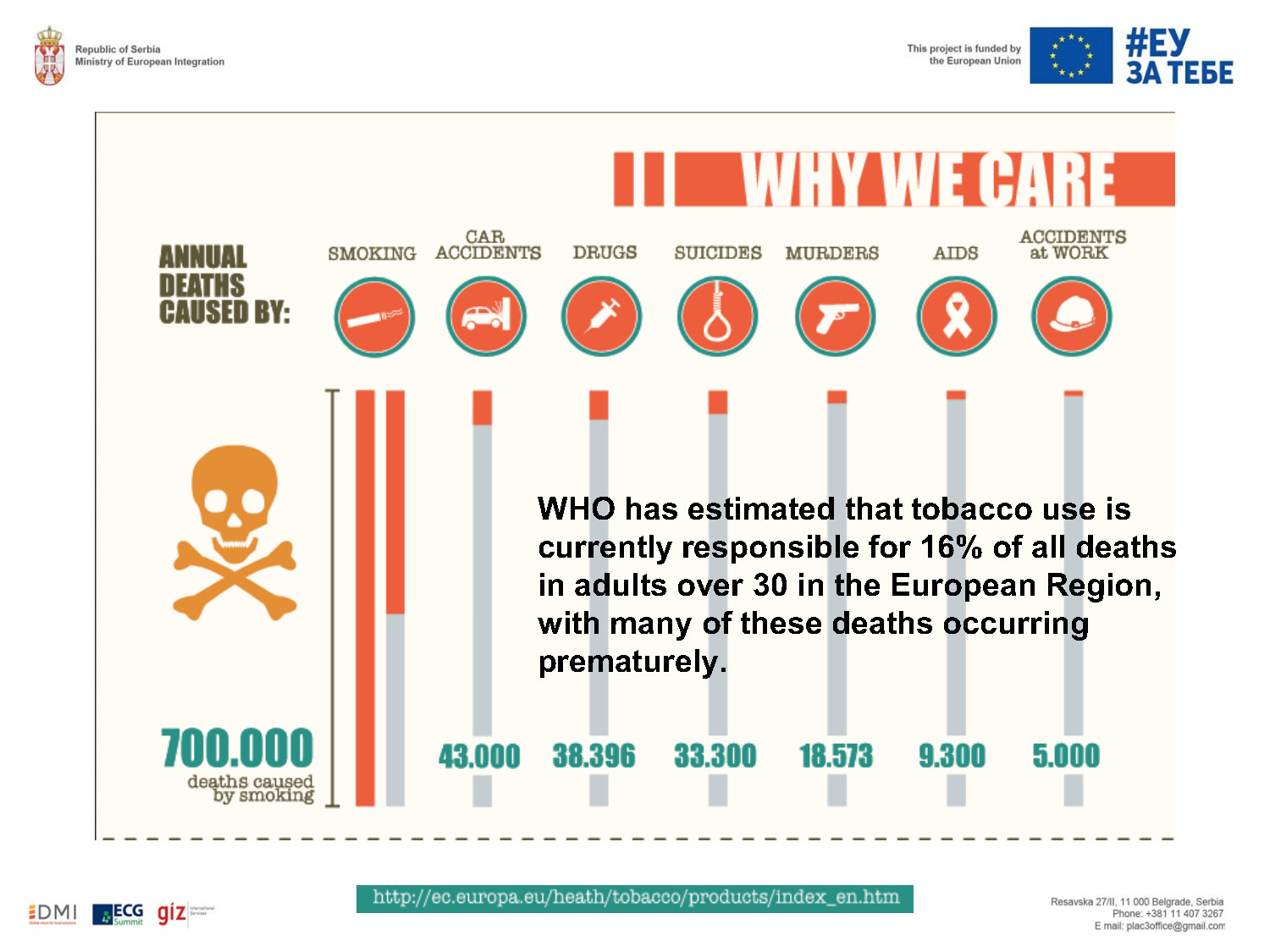 1. November 2019.
The first in a series of "EU for You – what European Standards Bring to Serbia" training session for journalists was held on Thursday, 31 October 2019, in the organisation of the PLAC III project. The training session, held at the EU Info Center in Belgrade, focused on the theme "Tobacco Control and the EU – Expectations, Challenges and Member States Experiences".
Presenting the PLAC III project, project leader Andrei Engelman said that the aim of all project activities is to achieve harmonisation of the national legislation with the EU acquis, thus contributing to Serbia's accession to the European Union. "The goal is to help Serbia reach high EU standards, thereby helping to raise the standard of living of its citizens," he said. According to Engelman, negotiation chapter 28 – Consumer protection and health protection – is one of the most important areas in which PLAC III supports Serbia.
In his opening address, the EU Delegation to Serbia Chief of Operations Yngve Engstroem said that the European Union is trying to balance freedom of smokers and the freedom of non-smokers, as smoking kills and has not only serious health but also serious economic consequences. "This is not a complete ban on smoking, but a duty on the part of the state to ensure that fewer people smoke and that those who do not smoke do not suffer the consequences. It is very expensive for the state to treat those who have become ill due to smoking, whether it is malignancy or some other disease, "Engstroem said.
Project experts Vesna Kerstin Petrič and Uliana Bakh presented to journalists the EU's Tobaccco Products Directive as well as overview on health consequences, economic costs and projections.
Each year, 700,000 people in the EU die from the smoking related disease; EUR 517 billion is the sum of economic losses in the Union related to tobacco smoking, just because of the health consequences, said Vesna Kerstin Petrič.
She said that 27 percent of the EU population smokes, and that the World Health Organization estimates that tobacco use is responsible for 16 percent of all fatalities in the over-35s in the European region.
According to her, the Framework Convention on Tobacco Control was adopted not only for health reasons but also for economic reasons, since the use of tobacco imposes costs on both the state and businesses.
The EU legislation in force is the Tobacco Products Directive of 2014, which regulates the production, labeling and sale of tobacco products, but also obliges manufacturers to notify EU members of ingredients used in production. In addition, Member States are making efforts to ensure that the ban on smoking in public places is respected, as well as the ban on advertising on the internet and at sporting events.
Kerstin Petrič cited EU Member States' experiences: 19 EU countries have banned indoor smoking so far, and Ireland was the first country in the world to introduce a total ban on smoking in workplaces and indoor public places in 2004. As a result, nearly 4,000 deaths have been prevented to date. This year, Sweden has taken the same step.
World Health Organisation data related to Serbia show that half of the 2,5 million smokers are threatened with premature death (before 65 years), Kerstin Petrič said, adding that WHO estimates that Serbia should do more to enforce the ban on smoking in public places, advertising at a point of sale, on TVs and in films.
If stricter laws are adopted, as many as 545,000 deaths in Serbia could be prevented in the next 40 years, she quoted WHO projections. In the Q & A session with journalists, Kerstin Petrič and Uliana Bakh stressed that efforts are being made at the EU level to stop young people from smoking, and that a country's tobacco control strategy, in order to be successful, needs to be a long-term one.
Photo gallery
Recent Posts

Negotiation chapters
Chapter 3: Right of establishment and freedom to provide services
Chapter 8: Competition policy
Chapter 9: Financial services

Chapter 10: Information society and media

Chapter 12: Food safety, veterinary and phytosanitary policy

Chapter 13: Fisheries

Chapter 15: Energy
Chapter 16: Taxation
Chapter 27: Environment
Chapter 28: Consumer and health protection
Chapter 33: Financial and budgetary provisions