Chapter 9: Support in the drafting the acquis-compliant internal acts for implementation of the CSDR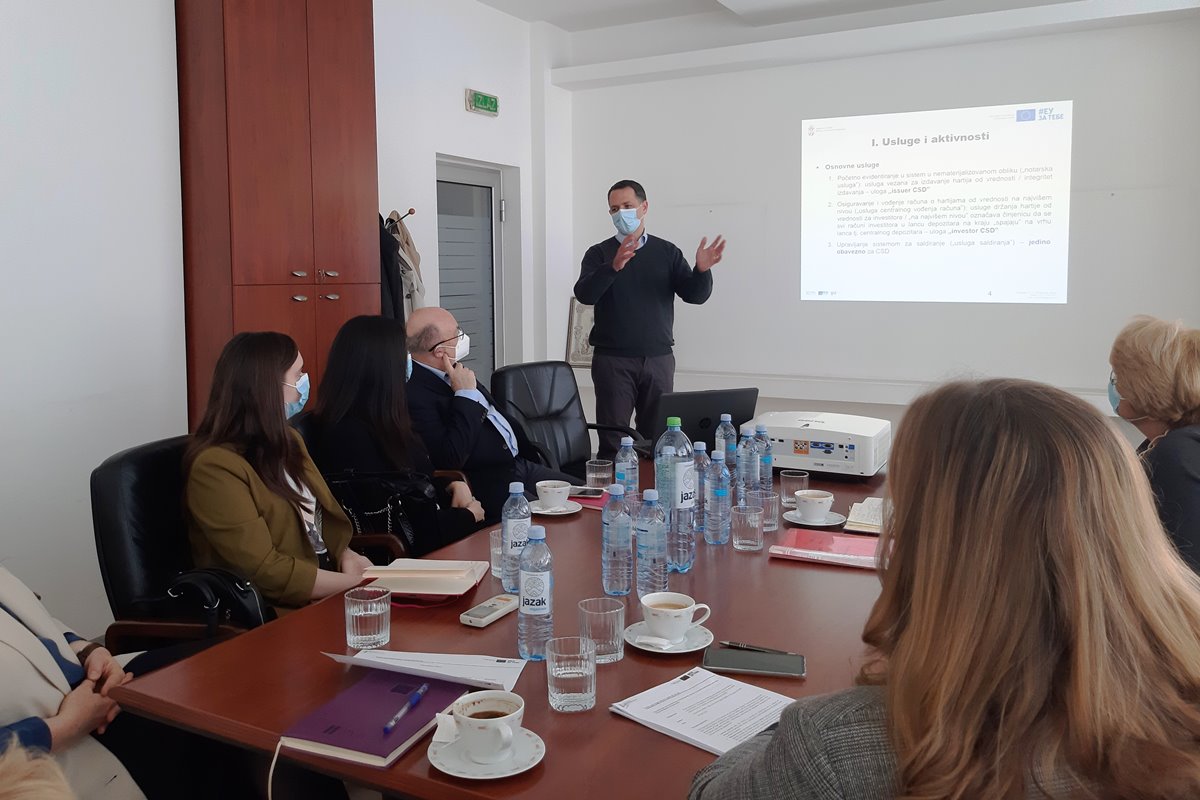 15. April 2022.
Negotiating Chapter 9 – Financial services is of a crucial importance to the Republic of Serbia as it is to ensure financial stability and adequate consumer and investor protection.
Serbia has opened the negotiations on Chapter 9, within Cluster 2 – Internal market, which means that it has reached a satisfactory level of alignment for securities markets and investment services and it partly applies the acquis in this area. However, the regulation in the field of financial services has been evolving rapidly during the last years. Phasing in of the new acquis is an on-going process. Serbia's legislation is not aligned with the Regulation 909/2014/EU on improving securities settlement in the European Union and on central securities depositories (CSDR) including the provisions of the Directive 98/26/EC on settlement finality in payment and securities settlement systems (SFD).
The conditions for the full implementation of the CSDR will be created prior to Serbia's EU accession. One of the recommendations of the previous PLAC Project assistance is that Securities Commission and Central securities depositary and clearing house (CSDCH) need further assistance in drafting by-laws related to the implementation of CSDR and SFD.
PLAC III project has provided support in drafting a set of internal documents of Central securities depositary and clearing house. Project expert Pierre Matek presented the documents to the representatives of CSDCH and Ministry of Finance at a workshop held on 13 April 2022.
Matek gave the overview of the Regulation 909/2014/EU (CSDR), emphasising that the Regulation implements new standards adopted in 2012 as Principles for Financial Markets Infrastructure. The Regulation defines services and activities of central securities depositories and introduces new rules aimed at strengthening settlement discipline. It introduces a system of joint approval of CSDs and defines the obligations of the settlement internaliser.
Matek shared experiences of the Republic of Croatia in the implementation of CSDR.
In Serbia, the new Law on Capital Market has been in force since January 2022. A set of 7 by-laws that fall into the mandate of Securities Commission has been prepared in 2020 and 2021. The documents were drafted with the support of previous PLAC projects. The ongoing PLAC III support enabled drafting of CSDR internal acts which will are aligned with requirements from the CSDR as well as with the relevant delegated acts in the field of CSDR. A total of 10 internal acts were drafted – rulebooks and procedures.
Relevant Union acquis
Photo gallery
Recent Posts

Negotiation chapters
Chapter 3: Right of establishment and freedom to provide services
Chapter 8: Competition policy
Chapter 9: Financial services

Chapter 10: Information society and media

Chapter 12: Food safety, veterinary and phytosanitary policy

Chapter 13: Fisheries

Chapter 15: Energy
Chapter 16: Taxation
Chapter 27: Environment
Chapter 28: Consumer and health protection
Chapter 33: Financial and budgetary provisions