17 October 2018
When t-shirts tell stories…
The workshop "When t-shirts tell stories" was organized today in Sombor for migrants from the Reception Centre "Streliste" in this city.
Special pedagogue Dragan Veselinovic said that the workshop will last for two days and that each participant will get a t-shirt that is unique and that they themselves have painted, with the back of the t-shirt representing their past, and the front representing the future.
"Within the psychosocial block on the first day of the workshop, we talk to migrants about their past, i.e. the countries and cities they come from and the reasons why they left them and about what kind of emotions they have about them. After that we move on to the creative and manual block when we paint the back of the t-shirt with the symbol representing this past of theirs and the connection with the places they come from," said Mr Veselinovic.
He added that today they talked to migrants about the future, about the countries they want to go to, about what they want to do there, about their aspirations and possible fears of how they will be accepted there and how they will fit into another socio-psychological environment.
"After that we move on to the manual and creative part where they paint the front part of the t-shirt with the symbol related to their future. These are often motifs of the flags of countries they are going to or football club jerseys, because the younger ones usually want to become footballers," added Mr Veselinovic.
He also said that their aspirations for the future are similar. All of them are gravitating towards Germany, Austria and Sweden. For all of them, safety of their children and their future comes first.
"They don't care what jobs they will get, they are prepared to do anything. They believe that in the West they will have better chances and opportunities for their children to live better. They usually don't have any fears, barely anyone is afraid they will not fit in or that they won't be accepted," Mr Veselinovic pointed out.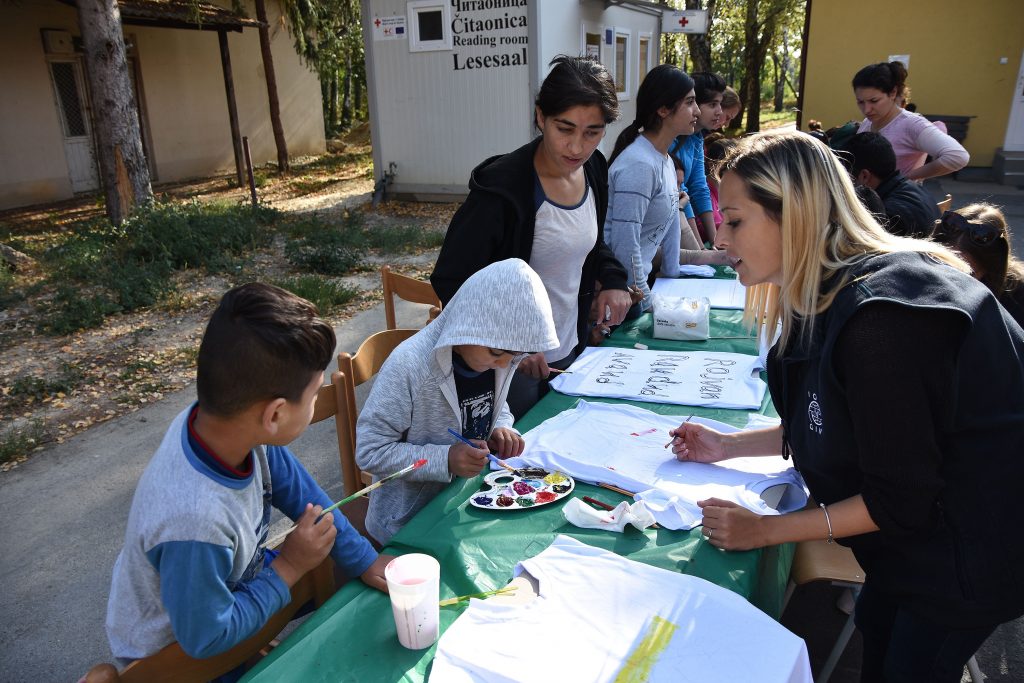 A migrant from Iraq, Ahlam Jundi, aged 16, said she is going to Germany.
"When I get there I want to become a surgeon, but I do not know what the future has in store for me," she said.
Migrant Birhad Kaso, aged 12, said he left Iraq because he did not have good living conditions there.
"My family stayed there, and I have been in Serbia for one year and one month. I am planning to go to Germany and I want to become a football player," said Kaso.
The workshop was organized by the International Organization for Migration (IOM) within the EU Support to Municipalities and Cities Hosting Migrants.