11 July 2018
Sem Fabrizi visiting Pirot
H.E. Sem Fabrizi, ambassador and Head of EU Delegation to the Republic of Serbia, visited Pirot and the institutions which had received support from the EU funds.
The ambassador began his official visit to Pirot by meeting with Mr. Vladan Vasic, Mayor of Pirot at which they discussed the EU support, especially within the context of a current migration situation, the support in accommodation of migrants and refugees and border management.
Ambassador Fabrizi called at the Regional Border Police Center on the border between Serbia and Bulgaria, where he met the Police General Mr. Milenko Bozovic, Head of the Directorate of the Border Police.
The European Union support in border management, besides invitational police officers from the EU member-countries, encompassed procurement of the specialized equipment for border control such as: sophisticated drones, endoscopic and thermographic cameras, field vehicles, equipment for communications, passport scanners, specialized binoculars and other.
"The European Union supports Serbia and its Ministry of Interior in strengthening its capacities for border management. This assistance implies enhancing of the operative capacities of the institutions in charge, through engagement of 100 invitational police officers from the EU member-countries. Thus, we enabled exchange of knowledge and experience. In addition, with procurement of the specialized equipment for border control (in approximate value of EUR 1 million), we have raised technical capacities of the Serbian Border Police", as stated by Sem Fabrizi on this occasion in the Regional Center.
During his visit to the Reception center for migrants and refugees, the Ambassador reiterated that the European Union has been the largest donor to Serbia in migration management, with almost EUR 100 million since the time of the increased migrants' flow in 2015 onward.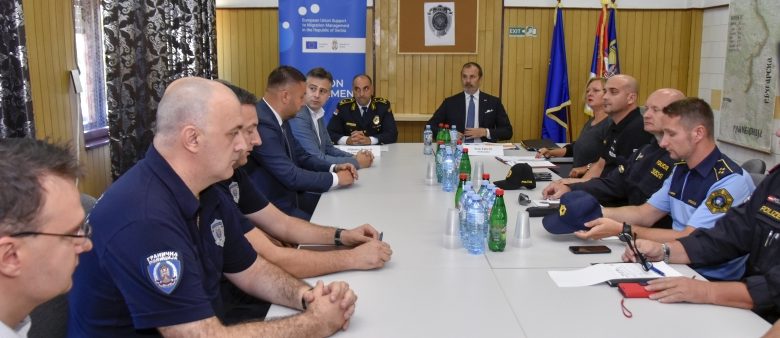 Accommodation, food, health care, education, protection (especially for children and other vulnerable categories) is provided in Pirot, as is the case with the other reception and asylum centers too, thanks to the EU funds. The EU covers operational costs of the accommodation capacities and costs for employees.
"We are aware that response of Serbia to the migration challenges would not be possible without significant contribution of the local communities hosting migrants and refugees on their territories. This being the reason to continuation of our support to the local self-governance in improvement of their capacities when it comes to public utility, education and health care services to local and migrant/refugee population likewise", stated the Ambassador Sem Fabrizi.