29 August 2019
Obrenovac gets its first solar smart bench
Today, Obrenovac Municipality was handed a solar smart bench, the first of the new generation in Serbia. In addition to the donation a smart bench, Obrenovac was provided with a server within the EU Support to Migration Management in the Republic of Serbia in order to improve the quality of public services provided to citizens in the territory of this city municipality, which was flooded in 2014.
Migrants from the Obrenovac Reception Center, local scout volunteers, as well as interested Obrenovac residents had the opportunity to try all the available smart bench functions first, charge their phones and try out the free wi-fi.
About the importance of the donation for all citizens of Obrenovac, the Mayor of this city municipality, Miroslav Cuckovic said:
"It is a great honor for us as a city municipality to have the opportunity to work with international organizations to strengthen Obrenovac as an open and intercultural community. The smart bench, and especially the server, will contribute to a more efficient functioning of the entire city administration, which has undergone extensive damage during the floods. This will now be replaced by new equipment with European Union support."
UNDP Deputy Resident Representative Anas Qarman handed the server to the Obrenovac City Municipality and stressed the importance of cooperation between the European Union, UNDP and local government in repairing the damage after natural disasters.
Qarman said: "This is one of a series of joint activities of the local and migrant population in Obrenovac. This creates space for coexistence and cohesion for all citizens, regardless of cultural and linguistic differences."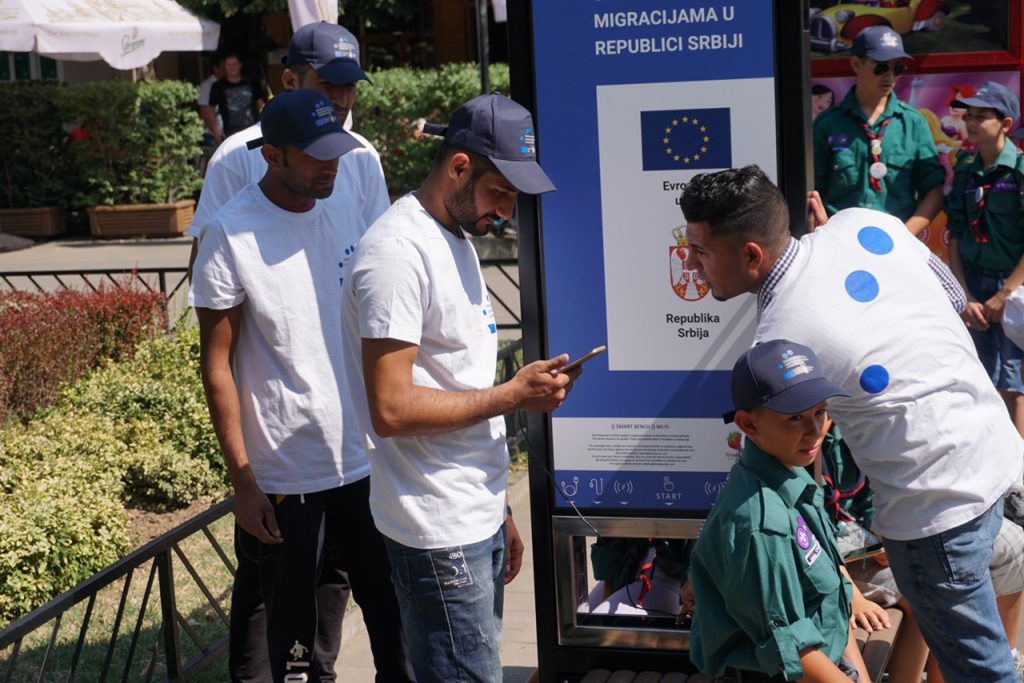 EU Delegation to Serbia representative Brigitte Kuchar said that the solar smart bench will enable citizens to use IT technology in daily search for information and communication in a technologically equipped public place that is a gathering place for all people learning about each other, sharing information and hang out.
Milos Milisavljevic, CEO of Strawberry energy, the company that first invented the solar charger in the world, said: "This is the first smart bench of the new generation in Serbia and the second in the world. Today we are setting it up in the busiest part of Obrenovac, where both locals and migrants gather and socialize."