9 July 2019
Migration talks in Nis today
Within the framework of the European Union Support to Migration Management in the Republic of Serbia, Niš, as the largest city in southern Serbia, was selected as the place to discuss migration issues in Serbia. This was a way to present data and information on migrants and local communities facing this challenge in our country to the media.
In Serbia, there are currently about 2,800 migrants in reception and asylum centers, most of whom are waiting to continue their journey, mainly to Western European countries.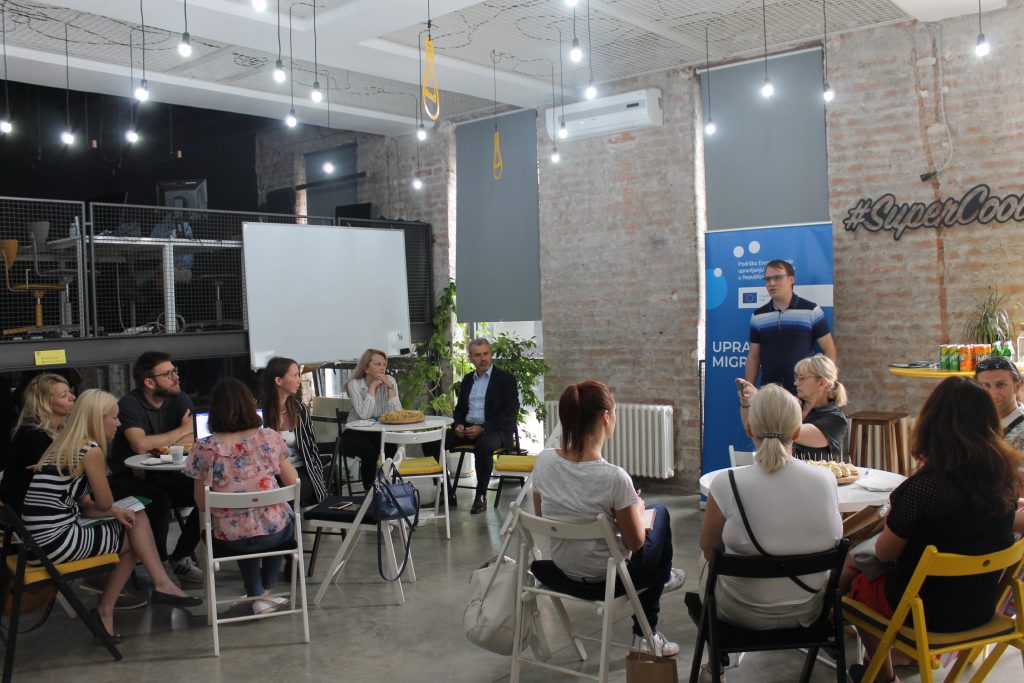 The local communities where migrant reception centers are located, as well as the beneficiaries of the centers themselves, often face many challenges. That is why activities under the slogan "Celebrating Diversity" are implemented within the framework of the European Union Support to Migration Management in the Republic of Serbia.
"Celebrating Diversity" encompasses a variety of activities that involve the interaction of locals and migrants, from environmental, sport activities to conversations between migrants and locals on quite personal, as well as everyday topics. Such activities take place under the name "Live Books" and are implemented every month at reception centers in Serbia. By getting to know migrants through conversation, the awareness of local people about migrants' experiences and their needs and wants is raised.
"The role of civil society has been instrumental in supporting all those who have come to Serbia since the onset of the 2015 crisis. Many local and some international organizations have gained experience and knowledge on how to effectively support everyone on the move, including protection for all those in need", said Marija Tomic, representative of the Oxfam organization.
Miroslav Luburic of the Ana and Vlade Divac Foundation, which conducts activities under the slogan "Celebrating Diversity", emphasized the role of the European Union in helping Serbia to address migration management challenges and thanked them for their assistance in the "Celebrating Diversity" activities.
Dunja Bozovic, a psychologist at the PIN organization – Network for Psychosocial Innovation also participated in the event.
"The activities implemented by PIN within the European Union Support to Migration Management in Serbia create opportunities for direct cooperation between migrants and the local population through joint activities like park cleaning, learning sports such as cricket and basketball, and playing mini-football matches with mixed teams. Aside from being fun and rewarding, these activities help us in learning about each other. This way, we are contributing to a common goal – to create a nicer place to live, to nurture a society full of understanding and a culture of acceptance rather than rejection. "
Goran Ciric from the Commissariat for Refugees and Migration stressed the exceptional assistance of non-governmental organizations in managing migration, when it comes to both people and knowledge. He also added that in the last four years there have been no serious problems with the locals in relation to the migrants staying in reception centers.