PLAC III project Steering Committee meeting held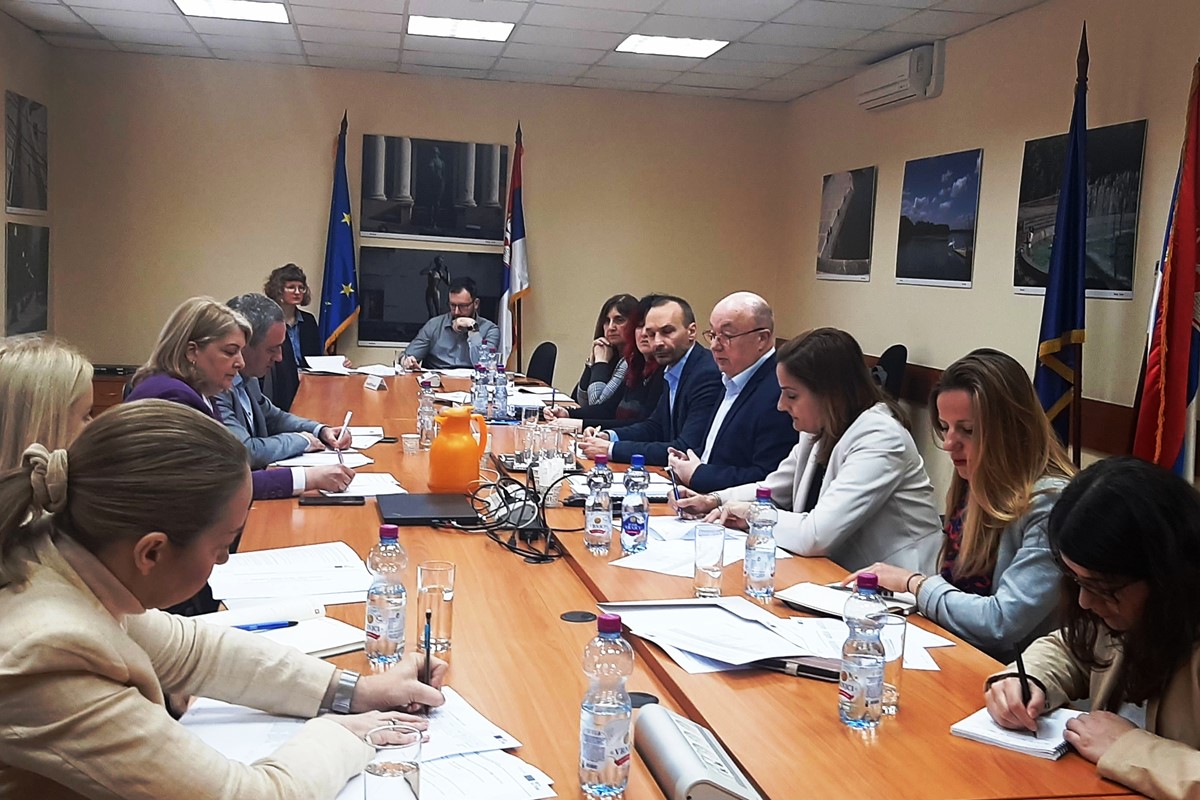 25. April 2023.
The ninth meeting of the Steering Committee of the Policy and Legal Advice Centre (PLAC III) project was held in Belgrade on Tuesday, 25 April 2023. Representatives of the Ministry of European Integration, the Delegation of the European Union to the Republic of Serbia, members of the implementing consortium and the project team participated at the meeting.
The project work plan that refers to the latest extension period (February 2023 – April 2024) was presented at the meeting. The Team Leader of the project Mr. Andrej Engelman   said that the plan envisages implementation of 40 activities, including one study visit (to France, in the areas covered by Negotiation Chapter 27). A total of 1,543 working days of project experts are allocated for the implementation of activities; experts will be engaged in areas from 14 Negotiation Chapters. Mr. Engelman said that some activities were already underway and that workshops were being prepared in coordination with the ministries of the Government of the Republic of Serbia. He pointed out as very good that workshops were being planned on a wider scale since economic entities and companies would be involved.
The eighth Interim Report of the project was adopted at the meeting. The meeting was held at the Ministry of European Integration.
The PLAC III project is implemented by a consortium led by DMI Associates in cooperation with Eastern Bridge and GIZ. The project is financed by the European Union, from the Instrument for Pre-Accession Assistance (IPA).
The project started in January 2019. The initial implementation period of 30 months has been extended (with the latest 14-month extension starting in February 2023) and the project will last until 10 April 2024.
Foto galerija
Recent Posts



Negotiation chapters
Chapter 1: Free movement of goods
Chapter 3: Right of establishment and freedom to provide services
Chapter 8: Competition policy
Chapter 9: Financial services

Chapter 10: Information society and media

Chapter 11: Agriculture and rural development
Chapter 12: Food safety, veterinary and phytosanitary policy

Chapter 13: Fisheries

Chapter 15: Energy
Chapter 16: Taxation
Chapter 27: Environment
Chapter 28: Consumer and health protection
Chapter 32: Financial control
Chapter 33: Financial and budgetary provisions